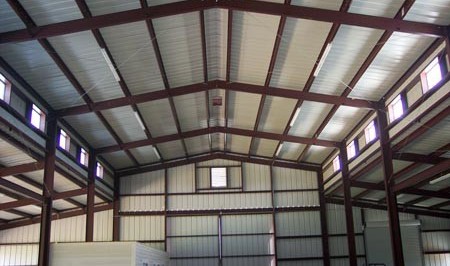 Owners — and prospective owners — of metal buildings in Bastrop frequently want to know how much maintenance is necessary, and what they need to do. One of the many benefits of steel metal buildings is that there is little maintenance involved. However, little maintenance should not be confused with no maintenance. Here are a few important things to do when it comes to maintaining your Bastrop steel metal building.
Inspect
Inspection of your Bastrop metal building is one of the basic maintenance steps. Your steel metal building should be inspected twice a year, searching for any damage or changes that may have occurred. In addition, inspect after any renovation or new additional construction, or following an extreme weather event. It is important to pay close attention to small stuff, so you can repair it before it turns into something more significant.
It is ideal to establish a regular maintenance schedule for Bastrop steel metal buildings. Inspections should be put on your calendar at times that make sens with the local climate. For example, a date in spring that predictably will fall after possible snow and ice will have cleared allows the inspection to find any damage that might have occurred as a result of winter weather. Alternatively, an inspection date scheduled in fall before winter weather usually starts will help ensure the steel metal building is ready to withstand whatever winter throws at it.
Repair Damage
It is crucial to repair any damage, even small issues, in a timely manner. Scratched steel panels should be primed and painted to prevent them from corroding. Remember to make a note if there was a repair and where the repair was made so it can be double checked on the next inspection. In addition, anything adjacent to the Bastrop steel metal building that might cause scratching again should be eliminated, such as nearby tree branch that sways in the wind. Any holes in the building envelope should be filled and sealed, as penetrations compromise the water-tightness and thermal performance of the building.
Water, regardless if its familiar liquid form, its solid form as snow or ice, or in its vapor form, is the common threat to ever Bastrop steel metal building of every construction type. It is important to keep moisture out of the walls and the ceiling, no matter what the form. Moisture can cause corrosion, mold and bacteria growth, weakening and warping of surface materials, and deterioration of the foundation.
Clean the Building
Once you know your steel metal building envelope is successfully keeping moisture out, it is a good idea to wash the building once a year. Any dirt, soot or organic matter that has accumulated should be removed to preserve the appearance of your Bastrop steel metal building. Also, it will stop the growth of fungus or other undesirable microbes. A mild laundry detergent can be used, diluted with warm water. Apply by hand with soft-bristled brush, or power-wash at low pressure. Make sure to always test your cleansing solution for compatibility with each of the building's surface materials before washing the building. This can be done by selecting test sites that are normally concealed or inconspicuous.
These simple maintenance steps will help keep your Bastrop steel metal building looking attractive and performing efficiently for many years, even decades of profitable use. Contact DDM Buildings with the link below for more information or to get started on your Bastrop steel metal building project today!