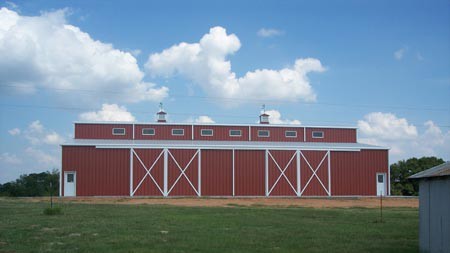 Steel has become the ideal construction medium for warehouses and other industrial buildings in Brenham for numerous reasons. Not only are Brenham steel metal buildings economical and durable, they also provide the simplest solution for building designs requiring large expanses of open space as well as significant design flexibility.
Cost-Efficiency
There are a few notable ways Brenham steel metal buildings are more affordable than their wood-framed counterparts. These include faster design/build process, lowered labored costs and reduced maintenance costs.
Durability
Steel is resistant to many of the usual threats experienced by wood, such as rot, mold, mildew, pests and fire. However, a well-designed Brenham steel building is also more resistant to wind, heavy storm loads and seismic activity. As a result, Brenham metal buildings are often the last ones standing after a super storm event, such as the severe hurricanes that have rocked the southern and northeastern seaboards over the past decade. Communities frequently turn to their steel-framed sports arenas, schools and other municipal buildings when they need disaster evacuation centers, knowing that these buildings are some of the strongest and most resilient structures in the area.
Versatility
Brenham metal buildings are available with adjustable panels so you can change the size of each unit as per individual requirements. This also allows easier expansion compared to traditional building construction methods. In addition, there are numerous design options available, with variety of colors to choose from as well.
Eco-Friendly
Eco-friendliness is more than just a trend. Studies have shown that green buildings are increasingly in demand by both building owners as well as the customers that will purchase their products/services. Due to the fact that steel utilizes recycled materials, it is an inherently sustainable building product during the production phase and is 100 percent recyclable at the end of its lifetime. In addition, Brenham metal building owners have the ability to take advantage of other green metal building attributes, such as cool metal roofs, vapor barriers, insulation and solar panels.
These are just a few of the many benefits of steel metal buildings. Contact DDM Buildings with the link below to get started on your steel metal building project today!