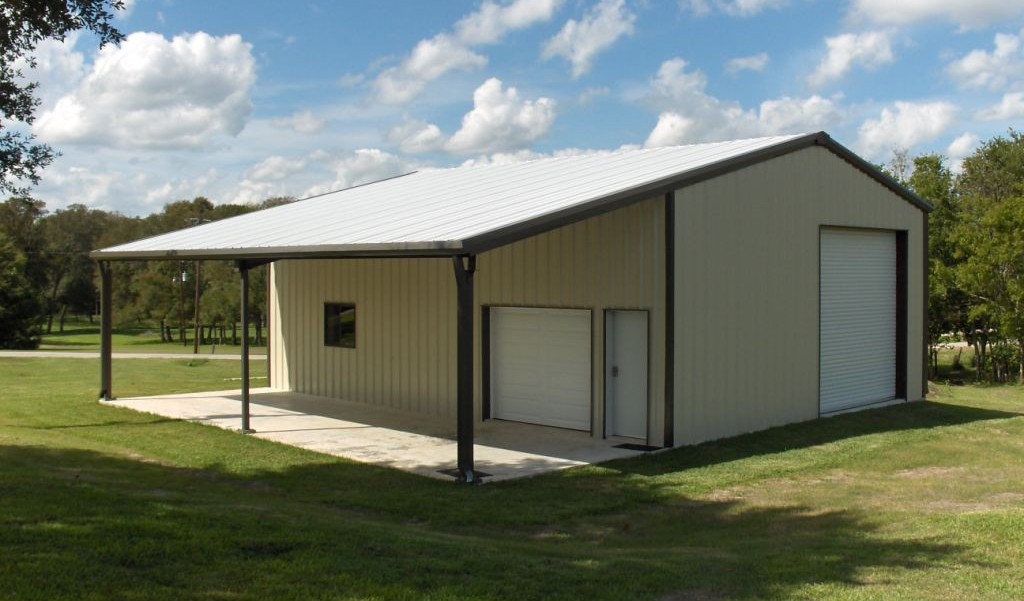 If you are looking to invest in a metal building in the rural Houston or rural Austin areas, DDM Buildings has you covered. We have a large selection of metal building styles and colors to choose from. Our metal buildings are designed look good and engineered to last. Over the years, DDM Buildings has been commissioned to design and fabricate many different types and styles of metal structures, including buildings with gambrel roofs, sloped roofs with mansard eaves, portable buildings, emergency and even disaster relief housing, specifically for the rural Houston and rural Austin areas. This article will discuss the different styles of metal buildings we have designed for both Houston and Austin, so you know which one best suits your needs.
Agricultural Steel Buildings
The space and facility requirements of rural Houston farmers and rural Austin farmers, cattlemen and ranchers vary as the products that they produce. DDM Buildings has been manufacturing steel and metal agricultural and farm buildings for our customers in the rural Houston and rural Austin areas for many years. Our buildings are engineered to meet your needs for a barn, hay storage, machine storage or any other type of agricultural needs you may have. DDM Buildings can provide an agricultural building for virtually any need or application. An ever-increasing percentage of buildings on farms or ranches are being constructed with steel. We use only durable, high quality steel in all of our buildings to engineer an agricultural building that is ideal for your needs.
Rural Steel Church Buildings and Rec Centers
Houston and Austin churches, as well as Houston and Austin recreational facilities require special features that make traditional construction methods very costly to use. Creating churches and recreational facilities for public requires specialized features along with the need to stay within a budget. DDM Buildings offers churches and youth centers to our rural Houston and rural Austin customers that are not only affordable, but can be finished out to be extremely aesthetic as well. All of our steel buildings are manufactured to be strong and built quickly. Our rural Houston building consultants and our rural Austin building consultants here at DDM buildings will create a building to meet your local building codes that will also provide protection from the toughest elements.
Rural Commercial Steel Buildings
If you are a rural Houston commercial developer, or even a rural Austin commercial developer, that is wishing to expand or start from scratch and you have tenants running small businesses or large corporations, a pre-engineered metal building kit can be your solution to getting the most value for your investment. The cost effective benefits of a steel building for commercial offers flexibility. It can also have an exterior to meet your requirements. DDM Buildings can produce the building you need at price you can live with.
Rural Custom Steel Garages and Workshops
Our steel construction provides the strength and durability to protect your vehicles, bikes, workshop, toys, recreational equipment — or any of your other prized possessions. The versatility of our rural Houston and rural Austin area building designs allows you to customize and finish off your building to your desired specifications. But the quick, easy and economical assembly is what customers love the most.
Rural Steel Horse Arenas
DDM Buildings has supplied riding arenas to our rural Houston and rural Austin customers over the years for multiple uses from riding lessons, horse shows, training facilities and competition. Some riding arenas also having living quarters tied to them. Our experienced building consultants can create the right arena to meet your requirements. If you are looking for an arena that is structurally sound and has the economical benefit that a single owner or a small horse club can afford, DDM Buildings should be your choice. We can design and engineer your steel horse arenas to meet your needs and specifications.
Industrial Steel Buildings and Warehouses
If you need a warehouse, manufacturing facility, welding shop, or factory, DDM Buildings has the building to meet your needs. Our building consultants can customize the most economical layout available to give you the best per square foot price for your Houston facility or Austin facility.
Rural Recreational Steel Buildings
There are a number of rural Houston recreational buildings and rural Austin recreational buildings being built by private owners, clubs and organizations. DDM Buildings is able to customize a building for any use at the best cost to our customers. Whether your building is for a swimming pool, basketball court, dance hall or just a meeting room, our building consultants here at DDM Buildings can help you get the right building.
Rural Texas Bardominiums
A Texas Bardominium is a metal building with inside living quarters. Our Texas Bardominium homes are affordable, have very low maintenance and are energy efficient. Standard features of our Bardominiums include energy efficient windows, engineered concrete slab, stained concrete floors and spray foam insulation. Our team here at DDM Buildings can engineer Bardominiums to best suit your needs.
For more information on the styles of metal buildings we offer, don't hesitate to contact us here at DDM Buildings with the link below!